Mental Health in Hawaii's Workplaces

To honor World Mental Health Day on October 10th, we facilitated a discussion with HMSA and UHERO. Join ProService and our partners to learn about the state of mental health in Hawaii and the practical ways employers can support employees and their mental health at work.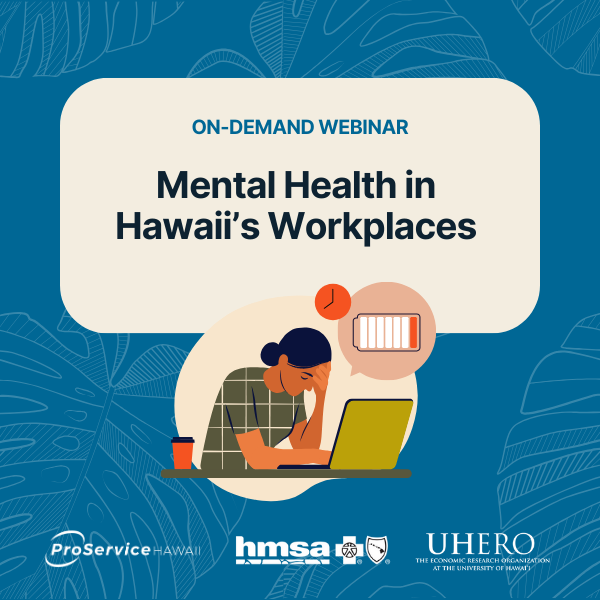 According to a recent national survey, ~77% of employers said there has been an increase in the prevalence of mental health challenges among employees this year, up from 44% of employers who said the same thing last year. In this webinar, learn about the trends and factors impacting mental health in Hawaii's workplaces, and what employers can do to support employees.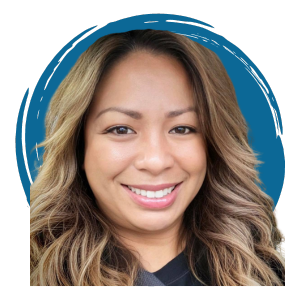 Maricel Blackwell, Sr. Manager, Well-Being Programs at HMSA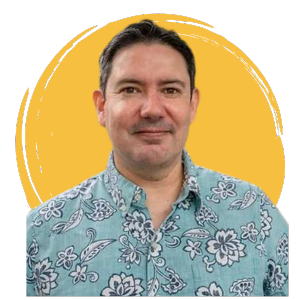 Ruben Juarez, PHD, Professor of Economics at UHERO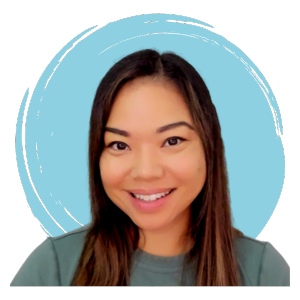 Moderated by Jena Andres, Director of Brand & Client Marketing, ProService Hawaii
Learn More About Our Experts:
Maricel Blackwell is proud to work at HMSA whose mission is to provide the people of Hawaii access to a sustainable, quality health care system that improves the overall health and well-being of our state. Her current and previous roles of Manager, Well-Being Programs and Alliance Manager, respectively, support this overarching goal.

Maricel is a seasoned Hawai'i professional with two decades of experience in the insurance and financial services industries. She has extensive background in operations, management, sales and marketing, communications, human resources, compliance, and vendor management. She is a results-focused leader with the ability to hire, train, and manage associates with diverse skill sets while addressing bottom line issues through budget review and financial analysis.

Prior to working at HMSA, Maricel was an executive manager and registered representative for two Fortune 500 Companies. She is recognized for successfully establishing and implementing policies and procedures that improved overall effectiveness and reduced operational costs. Originally from the Pacific Northwest, Maricel moved to Oahu where she received her BSBA from Hawaii Pacific University. She currently resides in Honolulu where she is an active member in her community.
Dr. Ruben Juarez is UHERO-HMSA Distinguished Endowed Professor at the University of Hawaii Economic Research Organization and the Department of Economics at the University of Hawaii. He is also a Director and co-founder of the Pacific Alliance Against COVID-19 and the CEO of Hawaii Integrated Analytics.
Dr. Juarez was granted the Ph.D. in Economics from Rice University in 2008 and has been a Professor of Economics and UHERO member since then. His main research interests include microeconomics, game theory and behavior, and network economics, with applications to health. He has publications in top field journals such as the Journal of Economic Theory, Games and Economic Behavior, Economic Theory, Vaccines, the American Journal of Public Health, and Frontiers.
​He has served on various unpaid positions and boards, including as co-founder and treasurer of the Hawaii Hispanic Chamber of Commerce, and is the associate editor of several scientific journals, including Scientific Reports, Humanities and Social Sciences Communications, and Mathematical Social Sciences.
He has prestigious research awards and projects for a variety of institutions such as the National Institutes of Health, the National Science Foundation, the Air Force Office of Scientific Research, the Hawaii Community Foundation, the Hawaii Medical Service Association, Kamehameha Schools, and regularly advises community organizations and companies.
About ProService Hawaii
Since 1994, ProService Hawaii has helped employers hire, manage, and grow their teams with bundled solutions for payroll, benefits, HR administration, compliance, and advice. Serving over 2,500 clients, ProService Hawaii has five offices on four islands and is committed to making it easier to be a Hawaii employer. ProService Hawaii is repeatedly recognized as one of Hawaii's Top 250 Employers and Best Places to Work. To learn more, visit www.proservice.com or call us at (808) 427-4032 for a free 15-minute HR consultation.